What's the best motorcycle cover for your bike? This is a question that many motorcycle owners ask, especially those who are just getting into riding.
To be honest, not everyone needs a motorcycle cover. If you have a garage or some kind of storage space that you can keep your motorcycle in, then you're probably set.
However, if you are like the majority of riders and don't have access to garage storage, then a motorcycle cover is an absolute must. It protects your investment from the elements that can cause serious damage.
But which one is right for you?
To help you choose the best cover for your motorcycle, we've put together a list of the five most popular and well-reviewed options that you can consider.
XYZCTEM Motorcycle Cover
Motorcycle Accessories – Indoor Motorcycle Cover – XYZCTEM®
The XYZCTEM Motorcycle Cover is currently one of the best-selling and highly recommended motorcycle covers on the market – and it's been made with just about everyone in mind.
This cover is 108 inches long, and it's designed to fit most motorcycles, including cruisers, choppers and touring bikes.
It is made of a heavy-duty nylon oxford fabric that is very breathable and provides excellent weather protection without accumulating condensation or heating the seat.
Aside from being 100% waterproof and UV-resistant, it is still very soft and lightweight. It's also non-scratch, easy to install and remove.
The other features that make it stand out include lock holes, windproof buckles, elastic hems, reflective strips, and a storage bag.
However, keep in mind that it is not suitable for oversized bikes and is only available in a single colour (Black & Orange).
Pros:
Offers full-bike coverage
Includes a free storage bag
Provide excellent protection
It has a pretty long lifespan
High-quality materials used
Cons:
Doesn't fit perfectly on some bikes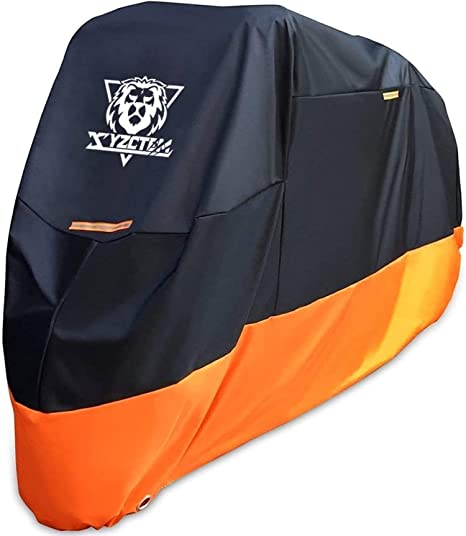 VELMIA Motorcycle Cover Waterproof
Amazon.com: VELMIA Motorcycle Cover Waterproof Outdoor [XX-Large] Premium Bike Cover for Harley Davidson – Moped Cover, Scooter Cover, Heat-Resistant & Breathable : Automotive
Despite having a slightly higher price than XYZCTEM, the VELMIA waterproof outdoor cover is still an excellent choice if you're looking for an all-around heavy-duty motorcycle cover.
It is not only one of the most well-liked covers on Amazon, but it was also given the title of "Cover of the year" for its amazing quality.
This UV-protected cover is made from high-quality materials and is compatible with several motorcycles. It is long-lasting, sturdy, and will protect your bike from harsh weather conditions, such as wind, rain, snow, and dust, etc.
It also offers many other features, including two elastic hems that stretch and a clear licence-plate window. It also has reinforced lock openings, reflective strips and 3 adjustable straps.
On the downside, some users have reported sizing issues and others have mentioned that water stands over the cover and it is not fully waterproof.
Pros:
The inner material is very soft
Waterproof & UV-stabilised
Well-tailored and of high quality
Can cover up to 575 °F exhaust pipe
Offers clear licence plate window
Cons:
It is not 100 % waterproof
Some bikes may not fit with cover
Dowco Guardian Weatherall Plus Cover
Amazon.com: Dowco Guardian 50003-02 WeatherAll Plus Indoor/Outdoor Waterproof Motorcycle Cover: Black, Large : Everything Else
The Dowco Guardian is one of the most expensive motorcycle covers on the market, but it also offers top-notch fabric quality, with a durable water-repellent top coat and UV protection for your motorcycle.
The cover's vent system helps reduce condensation and wind lofting, while the built-in heat shield allows you to cover your bike immediately after a ride without worrying about the hot exhaust pipe.
In addition to that, it comes equipped with a Guardian Alarm that will notify you if someone tries to tamper with your cover or if the wind picks up and starts to blow the cover off. Plus, the sewn-in hole for wheel locking is just an added bonus.
Although there is nothing too much to say about what is wrong with this cover, some users have complained about Dowco customer service, while others find the price a bit too high.
Although the cover is very well made and does its job, some users have had problems with Dowco's customer service and others find it a bit too expensive and heavy.
Pros:
Multiple size and colour options
Heavy-Duty 300D polyester fabric
Alarm pocket & wheel lock holes
Free compression storage bag
Comes with lifetime warranty
Cons:
Not a cheapest option around
The alarm is sold separately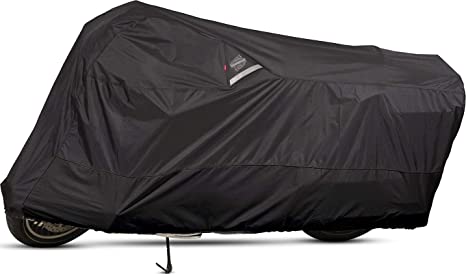 Oxford Aquatex Outdoor Motorcycle Cover
Amazon.com: Oxford – Aquatex Outdoor Motorcycle Protective Cover : Everything Else
Made by the leading UK manufacturer of motorcycle covers and accessories, the Oxford Aquatex is one of the best choices when it provides your motorcycle complete exterior and interior protection.
Made with the double-stitched polyester for strength and durability, this cover is 100% waterproof and features UV resistant coating and double PU coating for maximum protection against all kinds of weather conditions.
However, it is fairly cheap so you can expect it to last for years. It is also slightly thinner and of lower quality than other models.
Pros:
A cost effective option
Offers strap and buckle
Easy to put on & take off
Strong seal & heat-resistance
UV resistant & double PU coating
Cons:
Does not last much longer
Very thin and poor quality
WDLHQC Waterproof Motorcycle Cover
Amazon.com: Motorcycle Cover,WDLHQC Waterproof Motorcycle Cover All Weather Outdoor Protection,Oxford Durable & Tear Proof,Fit for 105 inch Motors : Automotive
The WDLHQC is another very affordable and top-rated motorcycle cover on Amazon that's suitable for any bike up to 105-inch long.
NYLON OXFORD material has been used in its construction and its inner surface adds a waterproof coating both of which ensures there are no damages to the motorcycle from scratches, dust, and UV rays.
It has a lockhole for security, and the elastic cord and adjustable buckle strap at the bottom allow for a customised fit.
The lack of reflective stripes, single black colour, thin material, and the cheap feel are all major drawbacks.
Pros:
Very affordable
Security lockholes
Pretty lightweight
Elastic cord & buckle strap
Enhanced resistance features
Cons:
Thin & cheap feeling
Only one black colour
Conclusion
A motorcycle cover is an essential accessory for any motorcyclist. It's especially helpful for those who don't have garage space and keep their bike outdoors in fully exposed conditions.
We hope this article has helped you decide which is the best motorcycle cover by narrowing down your options and providing details about each one.
In our opinion, the XYZCTEM Motorcycle Cover is the best choice because it ticks all the boxes in terms of features, durability, and price. It's also one of the most popular covers on Amazon with a near-perfect rating.