If you think that the automotive industry is not data-driven, think again. It's natural to think so since the automotive sector has long been dominated by hardware trends rather than software-led solutions. However, research by Frost & Sullivan paints a different picture:
"Autonomous driving service will account for 65% of the overall autonomous market by 2030."
"The third dimension of mobility – flying cars – will be unlocked in 2025."
"Mobility-as-a-Service (MaaS) will unlock $1.3 Trillion worth of revenue opportunity by 2025."
Remember that these numbers are just the tip of the iceberg. Clearly, technology is driving the automation industry to newer heights of digital transformation – complete with personalized and creative solutions.
The Need For Digitization In Automotive Industry: A Covid-19 Perspective
"Automotive shopfloors are expected to evolve and adopt digital technologies post Covid-19." – EY Report
Like every other sector, the automotive sector, too, is undergoing a drastic change owing to the global pandemic. From changes in customer preferences to non-availability of labor due to health and safety concerns on the shop floor, the sector is struggling to keep up with the dynamic demands. This is where technology can play an important role in helping pick up sales and analyzing critical data coming in from the shop floor to improve performance and productivity. In fact, data by Bain & Company and Facebook claims that:
"Almost 70% of automobile sales in India ($40 billion) will be digitally influenced by 2020."
Additionally, the report further claims that emerging technologies such as digital engineering, 3D printing, smart sensors, Internet of Things (IoT), etc. will empower key processes such as auto R&D, manufacturing, sales, marketing, and after-sales services, to name a few. Moving on, let's look at the top-5 digital innovations that are taking the automotive industry by storm.
Top-5 Digital Innovations In The Automotive Sector
1. The Emergence Of Digital Marketing
"Social media will influence about 40% of auto sales valued at $23 billion by 2020."  – EY Report
Did you know that "70% of people who use YouTube as part of their car buying process were influenced by what they watched." In other words, automotive companies should focus on creating thorough videos that highlight the car's features, demonstrate a virtual test drive, or showcase a 360-degree walk-through of the interiors as well exteriors of the car. That's not all. You can also engage customers with an emotional campaign highlighting real-life customer stories as BMW's video campaign does with the #BMWSTORIES: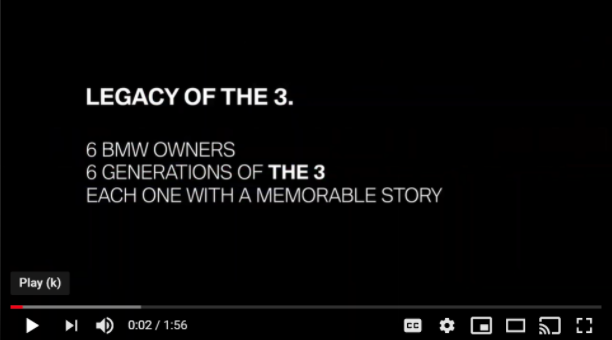 The point we're driving home is this: The 'always-on,' tech-savvy customer of today is constantly looking at new ways – mostly online – to do their research when buying cars. Brands need to find the right digital marketing channels to sell smart to the customer, be present where their customers are, and target with the right message that rings true with their target audience. To that effect, companies can explore digital marketing options such as paid search (Google Ads, etc.), SEO rankings, among others.
2. Customer Experience (CX) Aimed At Personalization
"By 2030, journeys will become more integrated, intelligent, and connected as people will demand personalized mobility solutions." – Frost & Sullivan
In this section, we'll look at the importance of a personalized CX by looking at the use-case of Dilawri – Canada's largest car dealership group. Following the pandemic, the brand shifted gears (pun intended) and fast-tracked the technology projects to improve their online customer experience. Here are some of the digital transformation initiatives the brand undertook to create a stellar in-person experience online:
Dilawri's employees were encouraged to use an all-in-one customer engagement software – Acquire – to communicate with customers remotely, across various stages of the sale funnel, via live chat, chatbots, video chat, and cobrowsing.
In order to get up, close, and personal, Dilawri reps conduct remote vehicle walkarounds in the parking lot using video chat.
With Acquire's support and sales bots, the team can stay connected with online visitors, 24/7: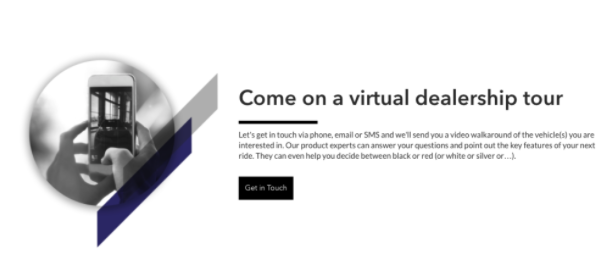 Website chat is used to generate new inquiries and leads.
Cobrowsing allows the brand to explain vehicle options to potential customers.
Long story short, Dilawri effectively delivers on a personalized omnichannel customer experience that factors in transparency, flexibility, and convenience from a customer's standpoint.
3. AR, VR, And AI In The Automotive Industry: The Trifecta
Augmented Reality and Virtual Reality are increasingly being used to deliver highly-customized and relevant experiences to consumers. Basically, physical showrooms turn into virtual reality showrooms using VR. Alternatively, take the example shown below. Here, using the highly-immersive VR technology, users can virtually open a car door and get into the driver seat!:
Using AR, VR, and AI, dealers can deliver realistic experiences coupled with every individual's customized choices as well as light and sound effects so that the customers can make a sound and informed buying decision. Best of all, dealers don't need to rent large spaces to make this a reality, and customers can view car models from the comfort of their homes.
4. Evolving Customer Habits: Customers Engage In Extensive Research Before Buying
"95% of vehicle buyers use digital as a source of information." – Google
Thanks to the penetration of smartphones and the Internet, 80% of customers are increasingly using mobiles and other tools to conduct research online and better understand the best model to buy. All in all, the decision-making process starts much before the person enters the physical showroom.
Goes without saying that buyer patterns are shifting from an offline presence to more convenient online platforms (at least at the beginning of the customer's life cycle). By understanding the key influential moments and digitizing them, automotive brands can deepen their relationships with users and deliver a more customized personal experience from start to finish.
5. Changing Buyer Patterns: Buyers Don't Visit The Dealership At First Anymore
"56% of new buyers most commonly start at a third-party site and end up at a dealer website."
The widespread availability of information is making the research process easier for customers – from peer reviews to comparison websites, there are plenty of options to consider (like the one shown below):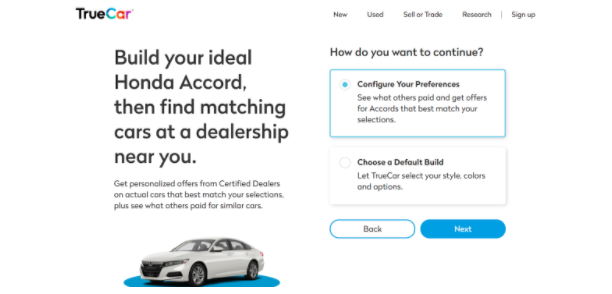 The idea is simple: Customers want relevant, personalized, and timely information at the click of a button and online comparison websites like these do the job perfectly. The need of the hour for dealers as well as automobile brands is to offer information in a seamless and accessible format – one that customers like to use day-in-day-out (such as Facebook pages, YouTube videos, influential third-party websites, etc.)
Final Words
"Digital transformation will affect the entire automotive value chain, including design, production, distribution and retail, reshaping the traditional automotive business model. New models will consider data, connectivity and cybersecurity." – Sriram Venkatraman, Senior Consultant, Frost & Sullivan Mobility
Automotive manufacturers need to adapt to a digital mindset. And the best time to do this was yesterday. From product digitization strategies to investing in a rock-solid analytics backbone, there's much you can do to accelerate your brand's journey from an offline model to a thriving and mobile digital experience that empowers and enables your customers to make the right choice in their car purchasing journey.