We recently purchased a gen 1 Audi R8 to use as our 2020/21 project car. We aim to test out this used car, clean it up, modernise it and write about it over time. We will be building the ultimate guide to Audi R8 ownership during our testing
Audi R8 Project Intro
I have always felt that the R8 has been a massively underappreciated car. This was mostly due to the R8 not having a long line of predecessors like its competition the Porsche 911 or the baby Lamborghini.
The R8 (Type 42) began production in 2007, just about 8 years after Lamborghini became a part of the Audi family and the R8 shared a lot of components with the much more exotic Lamborghini Gallardo which happens to be one of the best selling supercars ever. Nevertheless, the Audi R8 is a car that deserves some love and that is what we plan to do with this project.
Project Car Details
The Audi R8 that we will be focussing our attention on is a generation one version with a 4.2-litre FSI V8 engine and a manual gearbox. It has an aluminium spaceframe construction and an all-wheel-drive system.
However, what separates the R8 from the rest of the supercar world are the carbon fibre "sideblades". It gives the car an aggressive look and makes it appear larger than it really is. It was marketed as the everyday supercar and that is reflected on the inside with great head and shoulder room for two people and the frunk where there is just about enough room for a few bags. It also had one of the friendliest price tags among the two-seater supercars of the time.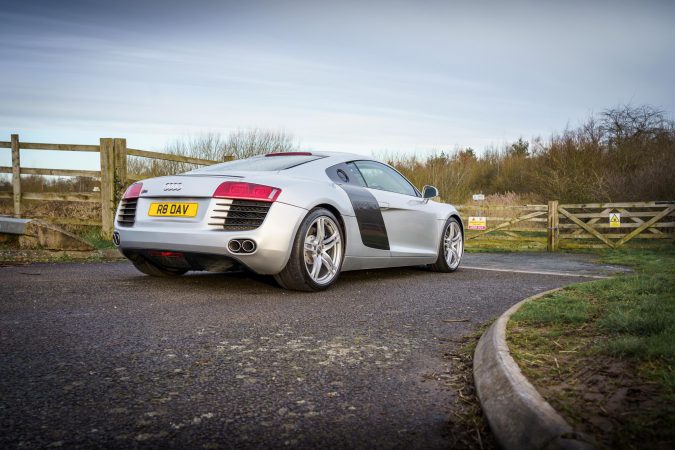 Plan – Clean Up and Modernise
With the car being second hand, the first step involves cleaning the car and correcting most of the minor cosmetic flaws. Then we will look at making this car in tune with the times by modernising a few things. At its heart, it is still an excellent car and the addition of a few things should make it a great fit even on current roads more than a decade later.
The Downside
Like with buying any used car, there are certain risks involved. This is especially true here when it comes to a performance car like the R8. The most common risks include the following issues.
Magnetic ride: The R8 is equipped with magnetic ride suspension which for a car of its time is pretty advanced but it comes with its set of problems. Over time these struts leak and will need to be replaced, they are very costly. Our project car has already been swapped over to BC Racing coilovers. So this problem is not going to occur thankfully.
The clutch has to handle a lot of stress from the powerful engine and that can cause a lot of wear and tear over the years. Again our test model has had a recent clutch and flywheel. So that shouldn't be an issue.
Like most used cars the air conditioning unit has plenty of chance of failure as it ages. However, it is placed underneath the engine in an R8. Meaning it is difficult to fix. Ours has already been replaced.
There are other things that one needs to look for when buying an old R8 which we will discuss in detail in our buying guide soon.
Initial Upgrades Planned
To make it all worth the effort, just doing regular maintenance won't be enough and a few modifications are needed to really spice up this car and inject a new lease of life into it.
One of them would be to set up the coilovers so that the suspension is properly stable. It will also make the car quite capable around a track while allowing it to retain its real-world practicality. There are other benefits too which we will discuss in detail when we do the work. The brand we have fitted is BC Racing as it is relatively simple to install, is priced reasonably and above all, improves the handling, comfort, and the performance of the car by a fair margin.
M-Tech Audi R8 Custom Piston Gear Knob Replacement For R8
The gear knob in these cars really shows its age and every time I grabbed it for a gear shift, it just didn't feel like something inside a modern-day sports car. As such, I opted to replace it with something that looked and felt cooler and upped the ante inside the R8. I went for this M-TECH custom made‌ gear knob. Find out more…
Servicing in UK
This is another area where a lot of doubts can arise and it can get quite confusing. Buying a used car without a hassle-free servicing option can be a big headache even if you get the best car in the world. Thankfully, Audi has a good servicing network in the UK and most of them are equipped to take care of an Audi R8.
As for the actual schedule itself, the servicing comes in two forms – a fixed servicing option that takes place every 9,300 miles or 1 year.
Another thing to keep in mind when buying a used car is the servicing history of the car. Preferably, it should have been serviced by an authorised service centre while strictly following the service schedule. A sports car is a high-performance machine and it requires slightly more care than a regular car and that is why a good service history is critical.
R8 Competition = 911 / V8 Vantage / 458 /Gallardo
As we alluded to earlier, the Audi R8 has a lot of competition. The most obvious one for the gen 1 version is the Porche 911 from the same timeframe. You can get a used 911 for a similar price and the two are evenly matched when it comes to the performance. The R8 is better looking with the 911 being a bit more feature-rich and practical. But I do think the R8 has dated better with time.
Other cars like the Jaguar XKR and Aston Martin V8 Vantage can also be bought at similar price points. Both are a lot more comfortable but come up short on the performance side of things. If performance is the sole criteria then the R8 is better matched against cars like the Lamborghini Gallardo or the Ferrari 458 but both go for up to double or triple the price of a used R8 and spending that much on a used car does not make a lot of sense for a project like this. The Audi R8 offers the best of all worlds and that is why it is the car of choice here. Lets not forget that Audi did also offer the V10 version of the R8 which has more performance, but is also more costly to buy and run.
What Is To Come?
Car review
Buying guide
Exterior detail
Interior detail
Replacing the car mats
Upgrading the infotainment system
Minor engine upgrades
Maintenance advice
Repairing faults
Performance exhaust
Wheel alignment beneifts
Air con service
Performance tyre tests
Ownership costs
Year Long Feature
The Audi R8 will be getting a lot of attention from the Motor Verso team over the next year, if your company would be interested to work with us on any of the features please do let us know via email – paul.hadley@motorverso.com.