In these days of rising prices, £10,000 will not stretch very far against a car. Buying and maintaining a vehicle is one of the highest monthly expenses you will face, as fuel and insurance costs steadily increase. For around £100 a month, you could have a weekly takeaway or daily caffeine fix, or better still, you could take to the open road! Find out which is the cheapest new car in the UK in 2020.
There are several new cars available that come in at under £10,000. We've selected the cheapest cars, based on their listed price on the manufacturer's website. However, using online research there will be better discounts to be had.
Buy Outright vs Use Personal Contract Purchase (PCP)
If you are not in the position of being able to buy the car outright or if you are on a limited budget, then you can opt for a Personal Contract Purchase (PCP) deal, where you pay a deposit at the start, followed by monthly payments. Under this flexible arrangement, you can trade the vehicle in against a new model, make a final payment to buy it outright or simply hand it back in. You could expect to pay less than £120 a month for some of these cars.
However, at this price, a brand new model will lack some key features. You may need to pay more for technology such as air-con, Bluetooth, a USB socket and remote central locking. All the below cars are petrol engines, which should be better suited to lower city speeds and have cheaper running costs.
If a low-cost brand new model appeals to you, then take a look below at the cheapest new cars in the UK 2020 and check the specification before you make your choice.
Our Cheapest New Car Selection
We have done all the research on affordable new cars and here are the cheapest cars available to buy in the UK in ascending order. You can see the total price and a monthly payment example for each car below.
| | | | |
| --- | --- | --- | --- |
| Rank | 2020 Car Make and Model | Price | Monthly Price |
| 1 | Dacia Sandero |  £  6,995 |  £       79 |
| 2 | Suzuki Celerio |  £  7,999 |  £     109 |
| 3 | Dacia Logan MCV |  £  8,495 |  £     109 |
| 4 | Skoda Citigo |  £  8,885 |  £     129 |
| 5 | Hyundai i10 |  £  9,195 |  £     114 |
| 6 | Toyota Aygo |  £  9,295 |  £     136 |
| 7 | Citroen C1 |  £  9,450 |  £     164 |
| 8 | MG3 |  £  9,495 |  £     139 |
| 9 | Peugeot 108 |  £  9,504 |  £     143 |
| 10 | Fiat Panda |  £  9,510 |  £     129 |
| 11 | Volkswagen up! |  £  9,605 |  £     109 |
| 12 | Kia Picanto |  £  9,720 |  £     113 |
* Prices were accurate at the time of writing and are subject to change throughout the year. All sourced from manufacturer's websites. PCP costings are dependent on variables such as initial deposit, loan term agreement and agreed mileage, so you can use these as a fair indication of monthly costs, but they might not be accurate in every case.
Key Results
To save you from going through all the facts, here is how to make your decision based purely on the data:
Most Powerful – MG3 – The MG3 has the most amount of power with 106 PS from its larger 1.5-litre engine. The rest all contain a 1.0-litre engine, excluding the Panda.
Quickest 0-60mph Time – MG3 – The MG3 with its superior power also gets the fastest 0-60mph time of 10.4 seconds, which is almost three seconds faster than its nearest competitor.
Most Efficient (Combined MPG)  – Peugeot 108 – Just by taking the combined MPG rating from its manufacturer's spec, the Peugeot 108 would be the most efficient choice with 68.9 MPG. However, the Citroen C1 and Toyota Aygo were only inches behind.
Lowest Co2 – Toyota Aygo / Citroen C1 / Peugeot 108 – This was a dead heat as all of these vehicles record emissions at 93 g/km of Co2.
Slowest 0-60mph Time – Fiat Panda – The Fiat Panda chalks up the slowest 0-60mph time at 14.8 seconds, but there is just one second between nine cars on our list, anyway, so there is nothing in it.
Least Efficient (Combined MPG) – MG3 – Using a larger 1.5-litre engine, the MG3 records the lowest reported combined MPG figure of the bunch at 47.6MPG.
Least Powerful  – Volkswagen up! / Skoda Citigo  – As they share the same 60 PS engine, the Volkswagen up! and Skoda Citigo has the least power to play with, but it still doesn't make them the slowest.
Best Warranty – Kia Picanto – The Kia Picanto comes with a seven year / 100,000 miles warranty, meaning that your investment is protected for a long time.
If a new car isn't your thing and you want to buy used, always get your own car history check. There are free data reports available including CarVeto's free service. Enter a car reg for an instant, online report.
Cheapest New Cars 2020
1) Dacia Sandero (Access Trim)
Price = £6,995
The Dacia Sandero remains Britain's cheapest car and is on a par with the cost of a used one. Available as a five-door hatchback only, it offers a range of engine sizes and trims to choose from. It has soft suspension and copes well with bumps and potholes. The engine is a little noisy, which the cabin does not muffle at high speeds.
The Dacia Sandero for 2020 is better equipped in the base spec (Access) than ever before. You now get electric front windows, daytime running lights and hill start assist. Hey, this isn't ground-breaking, I know, but this technology was not available at this price before. It is important to remember for this entry-level model, that you don't get a radio in the car without upgrading to the Essential trim.
It is one of the roomiest little cars around, more of a super-mini than a small city car, with plenty of space for your passengers and luggage. Based on the design of the Renault Clio, it shares many of its components with the previous model but this makes it a proven contender.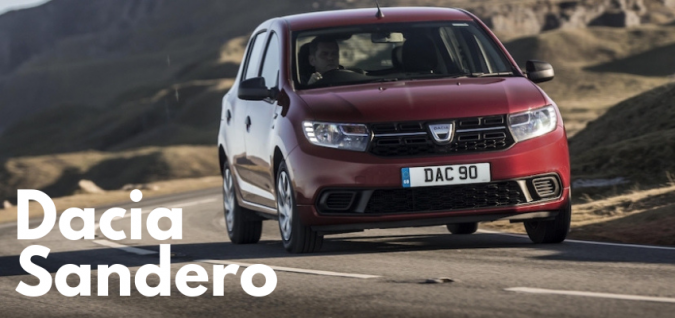 But it does not compare well with the Skoda Citigo or VW up!, both of which are better-equipped and more stylish. It is possible to pay for the car in instalments with a small deposit. In fact, you can get a brand new Dacia Sandero from £79 a month with a £1,662 deposit.
All in all, the basic Sandero model will not get your pulse racing with its 1.0-litre engine with 73 PS of power. Most discerning buyers will plump for slightly more expensive higher-specification cars. But if you opt for the Comfort trim, you will be rewarded with a car packed with extras, such as: remote locking, air con, a DAB radio, Bluetooth for connecting your phone, and Sat Nav but this will cost £8,795 before discounts. The Dacia Sandero has a basic interior and its driving characteristics are no match for its more expensive rivals.
Monthly Price: £79
Deposit:  £1,622
Optional Final Payment: £2,873
Term: 3 Years
2) Suzuki Celerio (SZ2 Trim)
Price = £7,999
The Suzuki Celerio is second place on this cheapest new car UK 2020 list. New car discounts will take the price down by a few hundred pounds also, but keep an eye on the used market, where two-year-old Celerios start at just £5,000.
This is Suzuki's smallest and cheapest model but good things come in small packages. Even the cheapest Celerio comes with an assortment of technology, such as a digital radio, CD player, electric front windows, driver's seat height adjustment, stability control, a tyre pressure monitoring system and daytime running lights.
This fun four-seater edition has only two trims to choose from: SZ2 and SZ3. The car offers lots of head and leg room if you and your friends want to explore the city. You can also fold the rear seats to give even more space and the boot can accommodate 254-litres of luggage. The Celerio has a 1.0-litre engine that creates 68 PS of power and will return 65.7 MPG on a combined cycle.
It's a little taller than most comparable urban runabouts, so the Celerio does have a good view of the road but can lean a little in tight corners. The steering works well at low speeds but it does not offer much feedback at faster speeds. It is not too refined, so you will hear muffled road noise in the cabin and the gear shifts could be smoother. The Suzuki Celerio is best for city driving where its compact size makes parking a piece of cake. It also comes with a three year / 60,000 mile warranty, ensuring value for money.
Monthly Price: £109
Deposit: £2,000
Optional Final Payment: £3,000
Term: 3 Years
3) Dacia Logan MCV (Access Trim)
Price = £8,495
The Dacia Logan MCV trumps its cousin the Sandero in the value for money stakes. If space is a priority for you, then look no further! With the back seats up, the Dacia Logan MCV has a 573-litre boot that rivals that of a large estate car. Don't forget, you can also fold the seats down, so the capacity more than doubles and the low boot opening makes loading a doddle. But in entry-level Access trim, you have wind-up windows and no radio. You might find yourself wanting a bit more.
The Dacia Logan MCV offers two engine choices, from a naturally-aspirated 1.0-litre petrol engine with 75 PS or a turbocharged 0.9-litre petrol engine with 90 PS (there is no longer a diesel option available). The 0.9-litre is the fastest and most environmentally-friendly option but is also the costliest. Please note, it is not available in the base spec (Access) trim level too, so you would need to upgrade to the Essential trim and then add the engine, costing £11,095 in total.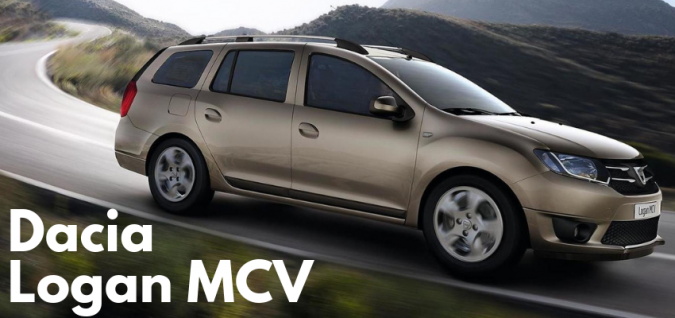 It shares its sparsely equipped interior with the Sandero, so the £9,295 Logan MCV Essential is the best choice, as it offers a digital radio, remote central locking, front electric windows, a car alarm, tyre pressure monitoring plus a whole lot more.
So, the Dacia Logan MCV does not give the greatest driving pleasure but it is very practical and affordable. It is cheap to buy and maintain and its capacity compares well to its more lauded competitors.
Monthly Price: £109
Deposit: £2,052
Optional Final Payment: £3,239
Term: 3 Years
4) Skoda Citigo (S Trim Three-Door)
Price = £8,885
Skoda is owned by the Volkswagen Group and the Citigo is similar to their up! model. It is the perfect city runabout and is also capable of motorway driving. The engine bay has been cleverly designed to enclose the engine in a small area, leaving plenty of leg room for four adults to sit relatively comfortably. There is also a generous boot capacity of 251 litres that jumps to 951 litres, when you put the rear seats down.
Once you get on the road, it seems more exciting than most of the competition, with a quick steering feel that makes it fun to drive. It copes well with speed bumps and potholes but you may have to floor it to keep up with some cars as you only have 60 PS in the entry-level S trim. But it does incorporate a clever GreenTech package, which includes brake-energy recovery technology and a stop-start engine system to reduce the important fuel consumption and emissions figures.
The low starting price of £8,885 gets you a three-door S spec car that lacks air-con and Bluetooth but does have remote central locking, a tyre pressure monitoring system, USB port and aux-in and front electric windows. But if you want more technology choices, you can stump up an extra £1,275 for the SE models, which add 14-inch alloy wheels, LED daytime running lights, an upgraded radio with colour display and Bluetooth connectivity, a smartphone holder on top of the dashboard and air conditioning.
The interior features quality materials, which are usually found in much pricier models. It looks smart, drives well and it is very economical. The great thing about the Citigo is, if you decide to buy second hand in the end, then these are really cheap.
Monthly Price: £129.00
Deposit: £1,764.45
Optional Final Payment: £3,245.40
Term: 4 Years
5) Hyundai i10 (S Trim)
Price = £9,195
This stylish five-door hatchback is available at an extremely low price but does not feel like a budget option. The Hyundai i10 can accommodate four adults and it's stable at higher speeds, especially on the motorway. It has an efficient 1.o-litre engine that has 67 PS, with a fast throttle response, helping to make this car feel alive. The suspension can easily negotiate potholes, making for a settled ride and the steering is light, so parking is no problem. The tall windscreen gives an unobstructed view of the road ahead but there is no seat height adjustment (unless you upgrade from S to SE). There is ample boot space of 252-litres for your shopping trips and plenty of head and leg room inside the car, considering its footprint on the road.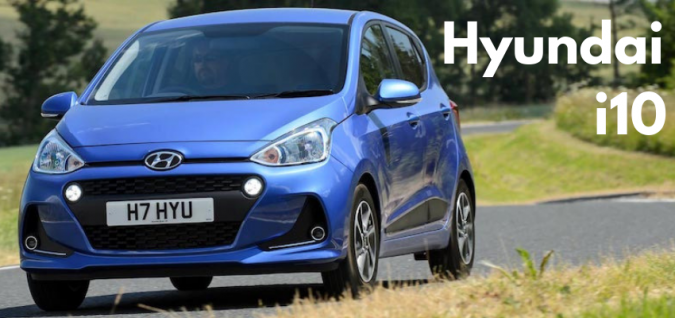 With the Hyundai, the lowest cost model i10 in S trim lacks air-con and Bluetooth, but does come with an easy to use radio, CD player, USB connection, aux-in socket, electric windows and let's not forget that five-year, unlimited mileage warranty. And you don't need to compromise safety and security over price, as the model includes front and side airbags, an electronic stability programme and an engine immobiliser.
Monthly Price: 114.35
Deposit: £2,000
Optional Final Payment: £3,570.00
Term: 3 Years
6) Toyota Aygo (X Trim)
Price = £9,295
The Toyota is more eye-catching than its rivals, as it features a large X emblazoned on the grille and striking curved lines. There are six trim levels and many colour schemes available for this compact little city car. But underneath the bonnet, it is nearly identical to the C1 and 108. However, with a reliable Japanese badge and a solid five-year warranty, compared with the lesser three years offered by the other two, you might start to lean towards this model.
As affordable as it is, it is still not as good value as the Hyundai i10, which comes with five doors, so is more practical. The base Aygo in X trim only has three doors and you'll need to pay even more if you want the five door option. The only engine choice is a 1.0-litre three-cylinder petrol, with 72 bhp, which should be plenty of power for this little car. It is relatively green as well, only emitting 93 g/km of CO2.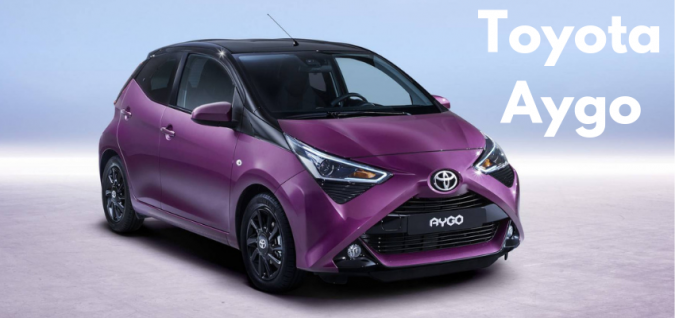 At the entry-level price in X trim, the Aygo gets LED daytime running lights, an audio system with USB and aux-in connections, electric front windows and a tyre pressure warning system. The car still lacks Bluetooth, air-con and alloy wheels. Moving up to the X-Play trim level at £11,375, you will get the X-touch multimedia system with 7″ colour touch-screen, DAB and Bluetooth, air conditioning and a stylish leather steering wheel with audio and telephone controls.
Monthly Price: £136.17
Deposit: £2,000
Optional Final Payment: £3,172.50
Term: 3 Years
7) Citroen C1 (Touch Trim)
Price = £9,450
Both the Citroen C1 and Peugeot 108 are very similar cars made in the same factory in the Czech Republic. But they each have their own look and charm, so the choice is down to your individual tastes.
The C1 in entry-level Touch trim features a two speaker radio sound system with a USB port, remote central locking and an electronic stability programme. So, you will still be missing air con and Bluetooth, unless you step up to the Feel trim level at £11,300.
This model contains a 1.0-litre three cylinder petrol engine that creates 72 PS and can achieve 57.6 MPG on a combined cycle. Its strongest attraction is its funky looks. Whereas others look similar, the Citroen C1 stands out with a cool and vibrant exterior.
Monthly Price: £164.38
Deposit: £1,999.97
Optional Final Payment: £3,260.00
Term: 3 Years
8) MG3 (Explore Trim)
Price = £9,495
The MG3 could give you the best driving pleasure out of the cheap city cars. It features a much larger 1.5-litre petrol engine that creates 106 PS, accelerates from 0-60MPH in 10.4 seconds, returning around 47 MPG on a combined cycle. So, there is plenty of enjoyment to be had in this vehicle for the low price.
Explore is the entry-level trim at £9,495: it includes LED daytime running lights, 14" steel wheels, a two speaker radio system with USB and Bluetooth telephone connection, central door locking, tyre pressure monitoring and hill hold control. So, the spec isn't bad really.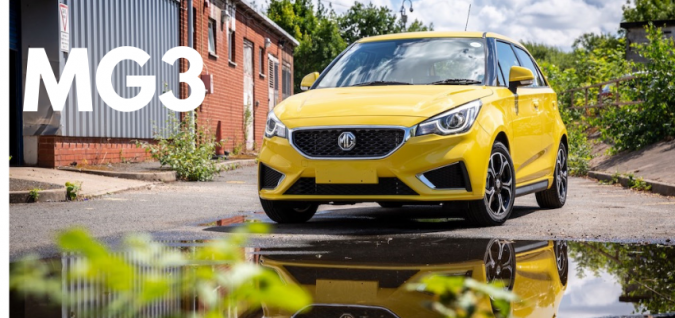 However, if you can afford it, moving up to the Excite trim is where the best value for money is found. For £11,395, you get air conditioning, a stitched leather steering wheel, 16" diamond cut alloy wheels and an 8" colour touchscreen with DAB and AppleCar Play.
The interior is also very spacious and the vehicle has a wide range of customisation options. Boot space is average and is further limited by the optional space-saver spare wheel. The model handles well, with excellent body control and plenty of grip. Front and rear visibility is good and the controls are easy to operate.
Monthly Price: £139
Deposit: £1,155.26
Optional Final Payment: £2,898
Term: 4 years
9) Peugeot 108  (Access Trim )
Price = £9,504
The Peugeot 108 in entry-level trim Access, is similar to the Citroen C1, you get the 1.0-litre three cylinder petrol engine that creates 72 PS and can achieve 58.9 MPG on a combined cycle.
With regards to equipment, you will get LED daytime running lights, electric front windows, remote controlled central locking, radio with aux-in and a USB port. Safety-wise, there is an electronic stability programme, six airbags (front driver and passenger, side airbags and curtain airbags) and two rear Isofix mountings for child seats.
However, the premium features start in the Active trim level that incorporates air-con, a 7-inch touchscreen with Bluetooth, AppleCar Play and Android Auto, but this will take the list price to £11,244.
Monthly Price: £143.50
Deposit: £2000
Optional Final Payment: £2,930
Term: 3 Year
10) Fiat Panda (Pop Trim)
Price = £9,510
The Fiat Panda is a cheap, practical vehicle and is a good alternative to more conventional city cars like the Volkswagen up! and the Hyundai i10. It is well suited to urban driving as it easily absorbs bumps and ruts. The raised driving position will give you a good view of the road. However, it can feel unsettled at higher speeds with noticeable wind noise at times.
The lowest priced versions aren't stuffed with technology but there is plenty of storage space. The entry-level model (Pop trim) includes a CD player, electric front windows, central locking and a tyre pressure monitoring system. But you will need to move up to Lounge trim to get both Bluetooth and air conditioning, costing £11,100.
The Panda uses a 1.2-litre petrol engine with 69 PS of power and will get to 60mph in 14.8 seconds. So, it's not the fastest, but it is very economical, producing around 52.4 MPG on a combined cycle. The Fiat Panda has a low insurance grouping and a decent resale value, ensuring it is cheap to run.
Monthly Price: £129
Deposit:  £1,750
Optional Final Payment: £2,488
Term: 4 years
11) Volkswagen up! (Take up! Trim)
Price = £9,605
As with most of these cars the Volkswagen up! also shares its components with other city cars, such as the Skoda Citigo and the Seat Mii (Mii costs from £11,690). The good news is that it gains the generous space, pleasant ride and solid feel of the other two models and has low running costs.
With a Volkswagen badge on its bonnet to confirm its quality, VW can charge more for the up! than the Citigo, but don't forget that the resale value on the Volkswagen is likely to be better than the Skoda also, so it does make financial sense.
At the base trim level, aptly named Take up! the car features 14″ steel wheels, Isofix child-seat mountings, electric front windows, driver's seat height adjustment and a one-piece folding back seat. It includes a radio but that is the extent of the technology. An optional USB port is available for an extra £55.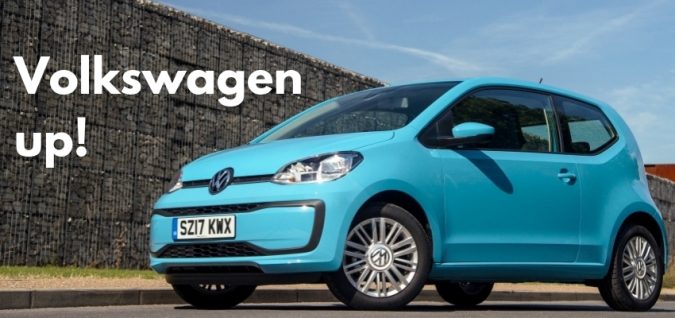 The Volkswagen up! is fun to drive with light and accurate steering and its comfortable suspension maintains stability. It copes well at motorway speeds but it is best suited to city roads and its narrow dimensions make it easy to park. There is a 1.0-litre engine with 60 PS powering the car, so it can accelerate from 0-60mph in 14.4 seconds, achieving 67.3 MPG on a combined cycle. Please note, the five-door version costs £400 more than the list price, but adds practicality.
Monthly Price: £109
Deposit: £3,108
Optional Final Payment: £3,768
Term: 3 years
12) Kia Picanto (1 Trim)
Price = £9,720
Being very similar to the Hyundai i10, the Kia Picanto has a lot to bring to the party. The most affordable trim level is simply called '1'. It offers the basic requirements, such as front electric windows, remote central locking, radio with USB and aux-in, hill assist support, an electronic stability system and even automatic headlights.
Let's not forget this car only comes in a five-door format, so for the money, you are automatically getting the extra doors that the other manufacturers charge a premium for. The exterior design of the Kia Picanto is also very stylish and up-to-date.
Powering the Picanto, in line with the competition, is a 1.0-litre 66PS engine that will get from 0-60mph in 13.8 seconds and can achieve 56.5 MPG on a combined run. So, the car is one of the fastest of the bunch. Most importantly, Kia offers a solid 7 year, 100,000-mile warranty which beats the competition and really brings down the cost of ownership over time.
Monthly Price: £113
Deposit:  £2,000
Optional Final Payment: £3,982
Term: 2 years
What is PCP?
PCP (Personal Contract Purchase) is a financial scheme that splits the cost of the car across the deposit, a selection of monthly payments over a few years and an optional final payment. This type of scheme makes a new car a lot more affordable.
The idea with PCP is that you pay the depreciation of the new car. Which is the difference in its worth when purchased new and its worth when returned after the term is up. This makes brand-new cars a lot more accessible. Once the term is up, you can return it and walk away, or pay an optional final payment and keep the car. It's that simple!
Payments for the car will vary, depending on the initial deposit, the number of miles agreed to be covered per year, the duration of the contract and assuming the car is returned in good condition.
Also Consider Leasing
If PCP or buying outright isn't for you, it may be worth thinking about leasing. Like PCP you can split the cost with a price upfront and monthly payments. The only difference is that you will not own the car at the end of the contract. On the plus side, you will be able to drive a new car every 2, 3 or 4 years.
If you do decide to lease it's well worth using a comparison site to compare prices. Using one may help you afford a car with a list price over £10,000. The basic Fiat 500 has a list price of £11,000.94, but you can get deals for around £100-£110 per month. That's including VAT. You can also get a Citroen C1 for around £20 – £40 per month cheaper than PCP.
FAQs