If You're The Driver Of A Semi-truck, You'll Know That Certain Trucking Accessories Make Life On The Road Much Easier! Check Out This Guide And Build Your Kit!
According to the America Trucking Association, there are 3.5 million professional semi-truck drivers in the United States. Professional truckers cover about 400 billion miles per year.
With long hours on the road, every driver needs a few accessories to make their drive a bit more comfortable and their job easier.  We have found 10 great trucking accessories to pimp out the cab of your semi so you can keep on truckin' in comfort.
Trucking Accessories Every Driver Needs
One of the largest occupations in the United States is driving tractor-trailers or delivery trucks. You want to impress other drivers with all the cool stuff you have in your rig.  Here are some awesome things to keep you both comfortable and efficient on the road.
1. Pre-Trip Inspection Tool
I'm sure you could perform a pre-trip inspection in your sleep. Just because it is a well-memorized procedure you do before climbing up into the cab every day, doesn't mean it can't be a bit easier.  The Pre-Trip Inspection Tool is so small it fits in your shirt pocket.
This handy gadget has several tools that help you complete that inspection easily. It includes a gauge to measure your brake wear and your tire tread depth. Inspect the brake stroke and brake shoe thickness, then check out the size of your windshield chip before dropping it back in your pocket and moving on with your day.
2. ScanGauge KR Monitor And Digital Gauge
For only about $200 this handy device installs using a six-pin or nine-pin diagnostic plug under your dash. The scanner allows you to diagnose problems and clear trouble codes. It can read pending, active, and inactive codes.
The performance monitor provides information on the overall performance of your truck. This includes performance, records speed, and distance. The trip computers provide information on drive time, fuel economy, distance to empty, and how much fuel is left until empty.
The digital gauge provides information on intake air temperature, coolant temperature, battery voltage, oil pressure, fuel economy, speedometer, and tachometer (RPM). Even with all those gauges, you do have to get under the hood from time to time, and that is when the Big Ass Tire Step is great.
3. Big Ass Tire Step
The Big Ass Tire Step is lightweight and folds easily for storage in your tractor. This large truck step fits over most heavy-duty truck tires. It has bumpers to protect rims and powder coated surfaces from damage, and the one-hand release makes it easy to use.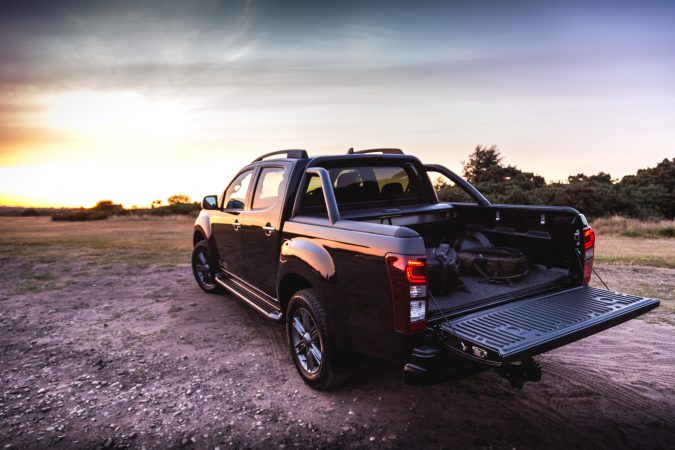 4. Mini Fridge Or Cooler
As a professional driver, you spend a lot of time out on the road, and dining out can get expensive. Preparing your own food from a grocery store can save you 40 to 79 percent on food. Not only is a mini-refrigerator for your semi-truck a convenient accessory, but it will also save you money.
The Norcold 1.1 cubic foot refrigerator/freezer for semi-trucks is a perfect choice. This 12-volt combination refrigerator and freezer comes complete with a removable wire basket. It has an electronic temperature control panel, a roomy interior, and operates quietly.
5. Reflective Safety Clothing
Trucker gear should always include a reflective, lightweight safety vest you can easily slip over your shirt or jacket. You never know when a problem or breakdown is going to put you on the side of the road in bad weather, in fog, or at night. Increase the chance of being seen by passing motorists with reflective safety clothing.
6. Telescoping Lighted Inspection Mirror
Manufactured by Generic, the telescoping 360-degree swivel mirror operates on a double ball joint. The mirror is illuminated by twin LED lights making it the perfect tool for inspecting your rig in hard to see areas. The long handle prevents you from needing to crawl under your semi in bad weather or at night.
7. Dashboard Gear Rack
The Brackerton Dashboard Gear Rack is the perfect accessory when you have limited room. It can hold your smartphone, GPS, and more.
The system includes an 18" bar with two device holder arms. It comes with a GPS holder and a magnetic phone holder. The bar is flexible and able to bend around a corner.
Additional accessories available make it easy to keep all your electronics close at hand. A tablet holder, jaw rack, and power rack power outlet are available.
8. Airhawk Trucker Seat Cushion
Airhawk technology is used to design cushions for wheelchair-bound patients, making it the ultimate choice for truckers.  The Airhawk cushion adjusts to your individual shape and carries a 4.5-star rating among truckers.  The air cushions do not harden over time as foam does. The cover is removable and can be machine washed.
9. Jotto Desk  
If you like keeping all your records on your laptop, you are going to love the Universal B100 Big-Rig Laptop Table. This handy desk is designed for use in Volvo, Peterbilt, Mack, International, Kenworth, and Freightliner trucks.
The base fastens to the passenger seat bolts and your laptop is secured in place with a patented Cable Dock lockdown system. The swinging arm makes it easy to use from either the driver's seat or the passenger seat. If you will be traveling with the laptop open you can purchase a screen holder.
10. Mattress And Bedding
A RoadTrucker innerspring mattress will provide a comfortable resting area. Designed for sleeper cabs, resonated fiber pads surround the innerspring so the mattress to let you get a good night's sleep. The non-skid material on the bottom keeps it from slipping while driving.
Top off your mattress with custom-fit RoadTrucker wrinkle-resistant bedding. With sizes to fit every type of rig, you will get ca sleep comfort as close to home as you can get!
Enjoy The Open Road
It doesn't matter whether you make local runs during the day or drive over-the-road for weeks at a time. A few new trucking accessories can make the long hours in a cab go by easily.
If life on the road is where you like to be, check out our other blogs for all kinds of great vehicle-related information.