If you truly love camping, you should own a good SUV that can be utilized for getting to your preferred camping spot and making your trip better and easier than ever before.
Not only will you have more space for all of your camping gear, but you can use said cargo space to sleep in.
Speaking of which, every camper should also have an SUV tent to go with their vehicle. You can check out this list with the best SUV tents for camping in, if you're interested.
#1. Honda Element
The Honda Element is very spacious and great for camping, and its washable floors and strain-resistant seating are a nice touch.
Some are opposed to the large, boxy look this vehicle has but it really comes in handy for outdoor recreation – it really is in its element there.
The all-wheel-drive lets you get through dirt roads easily and the height of this SUV makes it ideal for packing larger things such as coolers, chairs, grilling equipment, etc.
What I find really interesting about this one is that, if you don't want to use an SUV tent attachment, you can flatten all of the seats inside and sleep in there. Sleeping in your car is much warmer than in a tent when it's cold out.
#2. Toyota 4Runner
The Toyota 4Runner is extremely dependable, even more so in the outdoors. It's a four-wheel drive and large enough to fill up as much gear as you could possibly need for your camping trip.
There's 89.7 cubic feet of cargo space in total, which is great.
This SUV is also a towing machine and can handle up to 5,000 pounds. If you want a pull-behind camper that is an option too.
It is an ideal family car that looks more like a minivan but with the cargo space and driving capability of a huge SUV.
#3. Jeep Wrangler
The Jeep Wrangler is the king of off-roading, road trips, and towing, making it one of the best SUVs for camping and other outdoor adventures.
It's made with trail-ready construction and innumerable customization opportunities – it actually performs even better in the outdoors than it does on a highway.
There are other SUVs with more cargo space to offer, but there are newer models of the Wrangler that have more space than older ones.
Ideal for families who love to visit high alpine tracks, you can easily attach a tent to make your camping trips ten times better.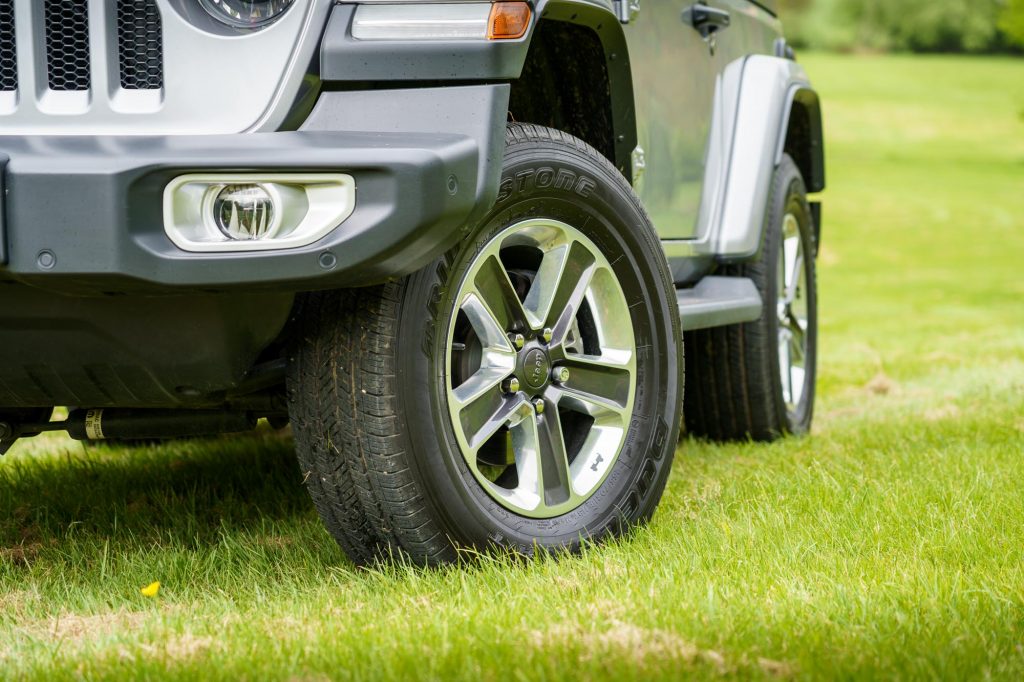 Tough enough to tackle any bad roads effortlessly; its body-on-frame construction gives it that edge, and newer models even have cool modern features such as traction control.
Jeep Wranglers have a removable roof, windshield, and doors, which is an incredible feature that gives it yet another advantage for outdoor use.
Let's not forget about the extremely durable tires that can climb any mountain roads, enabling you to get to your favorite camping spot with ease.
#4. Subaru Outback
The Subaru Outback is often considered to be another classic for camping, like the Jeep Wrangler. It's the perfect balance between fuel-efficient and sporty for highways and trail-ready for all sorts of terrain. It can take on most dirt tracks easily.
Although not as 'rugged' looking as some of the others on this list, this SUV still has a reputation for being reliable and agile with the addition of loads of cargo space.
The seats can be folded down, providing you with 73.3 cubic feet of space for your camping gear, and when the seats are folded you can easily fit two campers inside sleeping bags.
This vehicle has a towing capacity of 2,700 pounds, so if you'd like to have a pull-behind camper that is also an option.
#5. Subaru Forester
The Subaru Forester is both durable and stylish, as well as perfect for outdoor adventures. Models of this SUV have incredible features, especially the newest 2020 model blowing everyone away with its robust Starlink Multimedia System that has connectivity capabilities for Android and Apple users.
Inside, you get a 360-degree view so that you can really take in those lush landscapes. Driving in one of these is always enjoyable – make every part of your camping trip amazing.
The cabin feels as sophisticated as it looks with a beautiful interior, and tip-top safety features.
This SUV provides you with more than enough cargo space for your gear, and its all-wheel-drive is a breeze.