People are always on the move, going from place to place. Whether you are running your kid to school, going to the grocery store, or dropping food off at grandmothers–you need to drive! Every time you get in a car, you should think of the safety protocols and the risk you are taking and can avoid. Thus saying, winter months can be a little more nerve-wracking when getting on the road.
Scrape Off All Ice And Snow
It may be a hassle to stand out in the cold and scrape the ice or snow off your car, but it is by all means necessary. It is easy to get in your car and turn your defrosters and call it a day, but you need to make sure it is all off–including your back window! No one wants to be in a situation where you are unable to see a car behind you.
Four Wheel Drive
Depending on what type of car you have, make sure you turn your four wheels or all-wheel drive on if you are going out in the snow. Going up hills or uncleared roads can be hard on any car, let alone one without these features. If your vehicle does not have that, look into winter tires or borrow someone's car if necessary! It is always better to be safe than sorry!
Shovel And Salt Your Driveway
The first step in going anywhere is leaving your own place! Before you embark on your journey, make sure you shovel away the snow, so you have an easier time getting out. If you know that snow is coming overnight, put some salt out–you will not regret it! Plus, if anyone is coming to your house, you want it to be as safe for them as possible.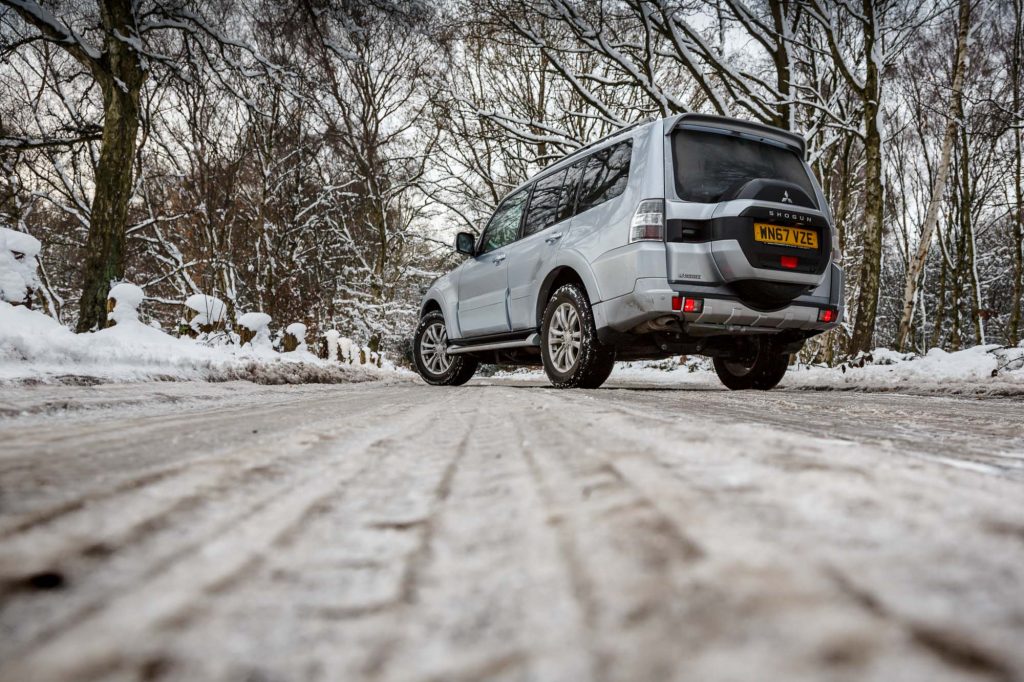 Stay Away From The Phone
Regardless of the weather outside, you should always stay off your phone while driving. It is easy to get distracted when you hear a little "ding," but it is more important to stay attentive while on the road—no matter what type of message, it can wait till you are parked and safe. Especially when the roads are questionable, you do not want to put yourself or others at a higher risk of an accident. However, if something were to happen, use these car accident resources for help.
Keep Calm And Relaxed
Everyone gets triggered while driving. Someone could have gone through a stop sign, cut you off, or given you the finger! Do not freak out and be consumed by someone else's impaired driving. Keep focused on what you are doing, and be careful not to get distracted by this. Put on some relaxing music and take a deep breath. Whatever happened is just a small incident, and it is more important to stay safe.
Slow And Steady Wins The Race
When driving in bad weather, slow down. We are always in a rush to get somewhere, and sometimes this results in speeding on the roads. The last thing you want to happen is to go fast and then get caught on some unexpected black ice. If you are going somewhere and do not want to be late, leave five to ten minutes early. If you are already on the roads and did not realize the roads were terrible, do not fret about being late. It is worth explaining that you were staying safe on the streets rather than never making it at all. If you ever feel uncomfortable driving, do not be afraid to pull over and put your blinkers on. Sometimes it is just easier to wait out the weather than risk driving in it.
Check The Weather
If you live in a particularly snowy and icy area, it never hurts to check the weather before leaving. If you need to be somewhere that day, plan your trip around the weather, not vice versa! Be conscientious about the day, especially if you can tell it is going to be bad out. You do not want to be stuck at your daughter's piano teacher's house because the roads are too bad to drive home! Do not be afraid to cancel in advance!
Take The Safest Route
We all know the quickest way home: the best shortcuts and the fast turning stoplights. Even though we are used to them, sometimes these roads or back alleys are not the safest. The main roads are plowed and salted for everyone's safety, so try and keep on those! Usually, shortcuts only take off a few minutes, and in the winter months, it is better to take the time.
Conclusion
Driving in bad weather can be a little frightening, but it does not have to be! If you follow these tips, you will surely be safer on the roads. If you have any of your precautions for driving on icy roads, don't forget them!