The new Ford GT is here! Although production will be limited, the American brand announced it will now offer a Ford GT Heritage Edition. As the name suggests, this model harks back to the car's famous Le Mans-racing granddad – the car that famously rubbed it in Ferrari's nose. If you don't know the history, I urge you to read or watch the story; for me, it's one of the best stories in automotive history. Anyway – that was then and this is now.
Ford GT Heritage Edition
Ford is now offering buyers the chance to become the owner of a limited edition model. Ford's intention in creating the Ford GT Heritage Edition was in order to pay tribute to the GT40 Mark IV race car. Under the watchful eyes of Dan Gurney and A.J. Foyt, the Mark IV secured victory in the 1967 Le Mans – the second win out of a total of four. The Heritage Edition features unique interior and exterior colour finishes and sits on exclusive alloy wheels, so it will certainly stand out from the crowd. Well, it is a Ford GT, so it's likely to stand out in most crowds regardless.
The outside of the car has Ford's Race red finish, with two white racing stripes and an exposed carbon package to complement it. The car looks like a true racer thanks to the No. 1 hood and door graphics. Also, this model has black wheel-nuts, red brake calipers and 20″ alloy wheels treated with silver satin clearcorat.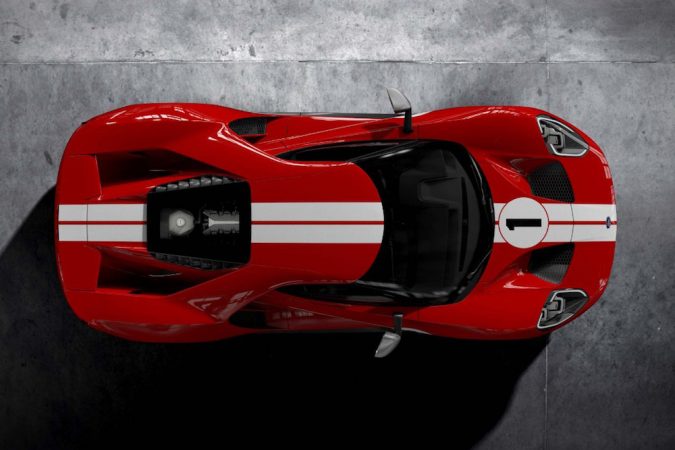 "In creating a worthy successor to the '66 Heritage edition, we logically looked at our next historic Le Mans victory with the all-American team of Dan Gurney and A.J. Foyt," said Dave Pericak, global director of Ford Performance. "The Ford GT '67 Heritage edition pays homage to that win, with a modern take on one of the most important vehicles in Ford's storied history of racing."
Once inside the snug cabin, you'll find a new leather trim for the carbon fibre seats contrasted by red stitching – my favourite. The seat-belts also get a splash of red and you'll find paddle shifters finished in anodised grey. Throughout the cabin, there are dark satin stainless touches which only add to the unique overall look of the car. Each model will receive a special plaque as well as matte carbon-fibre door sills, air register pods and a centre console.
"The first Heritage edition car was a huge success, honouring our history with a modern interpretation of the Le Mans winner" said Garen Nicoghosian, exterior design manager for the car. "Continuing with a Ford GT based on the winning GT40 Mark IV race car was simply something we needed to do."