One of the world's most popular sportscar is the Mazda Miata, so it's no wonder that nowadays it remains to be a very popular platform for people looking for a great introduction to sports cars. To be more specific, the first-generation, dubbed the NA Miata, is possibly the most popular model for aspiring enthusiasts. With the second-generation NB Miata following closely behind.
If you're one of many who are interested in purchasing a Mazda Miata 1990, then this article will help you understand the Miata better. Otherwise, it's just worthwhile to learn more about the car that single-handedly preserved affordable sportscars for the masses. It's also the sportscar that until now still influences design decisions made by various other manufacturers when it comes to enthusiast vehicles.
History of the Mazda Miata
On February 10, 1989, Mazda unveiled a sportscar at the Chicago Auto Show, one that's unlike anything it had made. Marketed towards the US under the MX-5 Miata name, it's different in that the Miata is designed to sell in the US. In fact, it's available to buyers the earliest in the US and Canada.
Named after the old German word for 'reward'. The explanation behind it is succinct, as 'meed' was what was found in the old Oxford English Dictionary. It also translates to 'reward', but it's an obsolete German lexicon. Miata is the synonym, and given that Mazda liked the sound of Miata, they just went with it.
You'll also know that the Miata goes by a multitude of names. In North America, it's the Miata. In Europe or the UK, people call it the MX-5. In its homeland, Japan, it's the Eunos Roadster. Miata is really only used in the US, but it's such a well-known car that people know what you're referring to when you say Miata.
Unexpected by Mazda, demands for the Miata far exceeded initial production capabilities. This is further exacerbated by the favourable press reviews. Cited by major publications as the best car/automobile of the year, it's easy to imagine why it was the sportscar to have. Best of all? It was available at an MSRP of $14,000.
While the Miata certainly wasn't Mazda's first rodeo with a sportscar, it was different in that Mazda didn't try to reimagine the lightweight roadster. It simply took the recipe that made cars like the Triumph Spitfire and MG B appealing and tweaked it for an international market.
For one thing, the Miata never emphasized any particular trait in developing the Miata. It simply intended the Miata to be a straightforward, no-frills sportscar that can be driven daily. Even now that very philosophy still lies deep within the latest ND Miata, albeit with modern accoutrements that make it friendlier to the masses.
Definitely, the NA Miata is lightweight. It's a small manual-folding roadster with all-steel construction but intriguingly utilized aluminium for the hood. This reduced weight but most importantly lowered the centre of gravity. It weighs under one tonne without any options. This base model though didn't have power steering and only came with steel wheels. But it was a canvas for enthusiasts to build up from.
Design Highlights of the Mazda Miata 1990
Mazda Miata 1990 – 1.6-litre Engine
Early generation NA Miatas all came with the 1.6-litre B6ZE DOHC naturally aspirated inline-4 engine with electronic fuel injection (EFI). It outputs a modest 116 horsepower and 100 ft-lb of torque. Notably, it's part of the B6 family which is already employed across various Mazda models.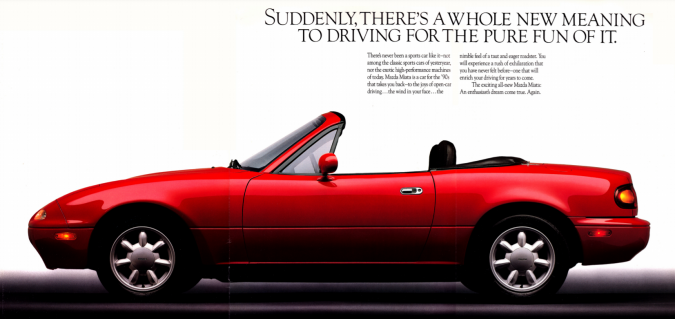 However, it underwent further developments to optimise it for the Miata. Most obvious of which is that it's mounted longitudinally for rear-wheel-drive purposes. Furthermore, the ZE enjoyed a host of performance-centric tweaks, with a lightened crankshaft and flywheel for greater engine response and an increased redline (7,200 rpm).
Additionally, this engine also used an aluminium oil sump with cooling fins for further weight reduction. To facilitate the higher rev-limit Mazda made the switch to an electronic wasted-spark ignition system in lieu of a distributor.
Mazda Miata 1990 – Transmission
This engine is mated to a 5-speed manual that's designed specifically to feel engaging to drive and shift as the driver. An optional four-speed automatic transmission is also available, and the engine is retuned to better suit the lengthened gearing.
Interestingly, buyers of the standard 5-speed Mazda Miata can also opt for an optional viscous limited-slip differential (VLSD), with later models ditching the VLSD for a stronger, higher-performance Torsen LSD. Compared to the VLSD, the Torsen has more locking ratio which can be useful on the track if you're really pushing your Miata to the ragged edge.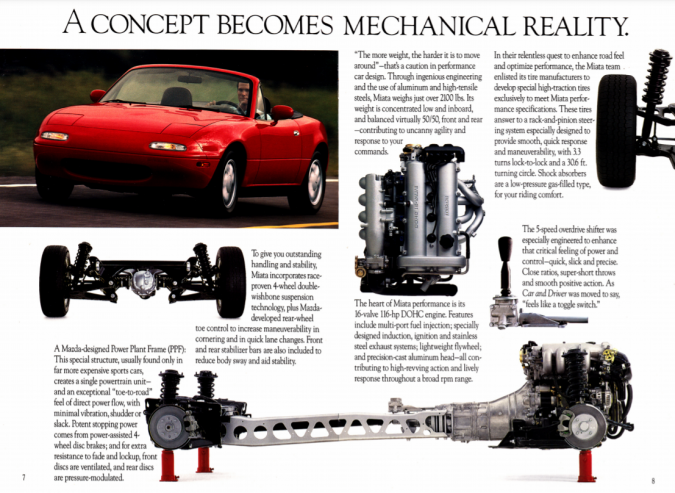 Otherwise, the LSD options are intended towards poor weather conditions, where any LSD can drastically alter a car's drivability in the wet and even snow. This is also where most Miata owners find the difference between an LSD and an open differential to be palpable.
With the manual, the Miata was able to reach a 0-60 mph time of 8.3 seconds onto a top speed of 126 mph. This was considered rather peppy back then, it's by no means severely underpowered for reliability's sake. But it certainly was helped by the Miata's lack of weight.
Mazda Miata 1990 – Chassis
You might've heard the word 'Jinba Ittai' being thrown around when people are reviewing a Miata. This is the design ideology that currently still guides the development of a Miata. It's a traditional Japanese phrase to describe 'rider and horse as one.' In the Miata, this meant that the driver involvement with the car is of utmost importance.
This led to a few keynotes behind the Miata. First of all, the Miata must be as compact and lightweight as safety regulations would allow without compromising driver comfort. It must also tout a front-mid engine rear-wheel-drive layout with 50-50 weight distribution. Wishbone or multi-link based suspension should always be incorporated into the Miata for their favourable road performance. Finally, a power-plant frame should be used to improve rigidity between the engine and rear differential.
As you might imagine, the original Miata definite adhered to Mazda's own design guidelines. The NA Miata had fully independent double-wishbone suspension at all four wheels with front and rear anti-roll bars, which is actually a premium suspension for such an affordable car back then. Disc brakes were used for all corners too.
From the ground up, the Miata was also implemented with the power plant frame (PPF) in mind. This is a design that Mazda has used extensively across the RX-7 and RX-8. Basically, it's an aluminium frame that ties the transmission to the rear differential together. Thanks to the PPF, the need for a third engine mounting is eliminated.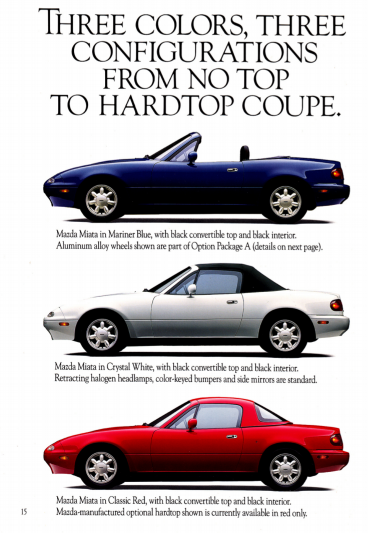 The main objective of the PPF is to actually improve the responsiveness of the drivetrain, as in, how the power is generated and delivered from the engine to the wheels. The PPF resists torsion generated by the engine and thus the lag the engine might have when delivering power. It also ties the differential to the engine and reduces differential movement during acceleration and deceleration. Finally, it helps to improve the shifting feel thanks to improved drivetrain rigidity.
Refreshes, Facelifts and Limited Editions
Mazda obviously knows how to market and sell the Miata, as they have earmarked countless 'limited editions' or 'special' NA Miata models throughout its service life. But in general, Miatas are segregated into three trim levels, 'A', 'B' and 'C' package.
Essentially, 'A' is the base model Miata. This is the basic Miata lacking in most amenities like power steering or air conditioning and only came with steel wheels from the factory. 'B' package is a step up, and it's specced to appease most consumers. 'C' is top of the trim level and came with most of what Mazda had to offer in the Miata.
Mazda Miata 1991
In 1991, Mazda had been busy producing and marketing additional options with the Miata. Finally, Mazda introduced the 4-speed automatic transmission and ABS for buyers looking for an affordable convertible for cruising. There was also a special edition model offered this year.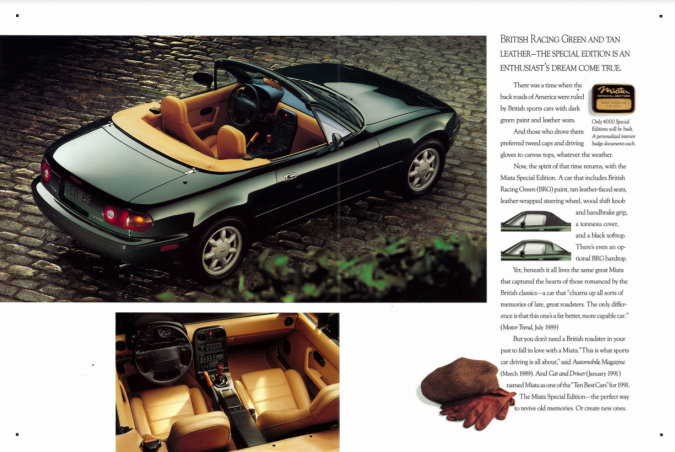 Officially the 1991 Special Edition Miata, it's referred to by enthusiasts as the British Racing Green (BRG) Miatas. Those Miatas were only sold in the BRG paint with tan leather interior and boot lining with a black cloth top with a tan tonneau cover. It also came with Nardi wood handbrake lever and shift knob. 3,997 BRG Miatas were built.
Mazda Miata 1992
Not much has changed in the following years. It's also one of the first years of Miata to receive a factory rear subframe brace. Being a convertible without a rollbar, chassis rigidity is compromised severely that requires additional chassis bracing for the car to stay taut. 92′ Miatas also received a remote trunk release for the driver.
Intriguingly, an additional paint option was included as a limited edition. Known as 'Sunburst Yellow', it's a vibrant shade of yellow that definitely stands out from the crowd. Production is limited to 1,519. But worth noting that if you ever see a bright yellow Miata on the road, you'd know it's a '92 model. (As long as it's the original paint.)
This was also the year when the 'C' package Miatas were introduced as an 'unofficial special edition'. These came in a Brilliant Black hue and 14″ BBS alloys with Nardi wood shift knob and parking handle as well as stainless steel door sills. Much like the BRG Miatas, those also came with a tan interior and soft top. Official production numbers are recorded at 4,626.
Mazda Miata 1993
Nothing much changed this year, but Mazda released a new limited edition model. You can identify it by spotting a Brilliant Black exterior with a red interior, leather Nardi shift knob and a red tonneau cover. Additionally, those Miatas were sold with BBS alloys, ABS, aero package with front and rear spoilers and Bilstein shocks.
Mazda Miata 1994 Facelift
For those that want a more up-to-date Miata for daily driving, then perhaps the later iterations of the NA Miata would be a better option. By 1994 the Miata received a minor facelift that attempted to sort out complaints some owners have had with the first generation Miatas. It's also an effort to improve the driving dynamics of the NA Miata.
In a contentious move, Mazda conceded that there is no replacement for displacement, and made the switch to the larger BP engines. Again, it's a 1.8-litre inline-4 naturally-aspirated engine that has already been used in other Mazda models adapted for the NA Miata. Known as the BP-ZE, it makes 128 horsepower and 122 lb-ft of torque.
And along with that came a whole host of chassis and suspension revisions to accommodate the increased power output. This included reinforcements and enhancements such as enlarged brake discs, additional front subframe brace and refreshed rear subframe brace. There is also an incorporated cockpit brace behind the seats and a rear strut tower brace.
While those were integrated to tie different parts of the chassis together to improve rigidity, it's also for improved passenger safety. This is also why Mazda made the passenger airbag a standard feature. A gamechanger is the Torsen LSD though, which made the prior viscous LSD obsolete. This is a much stronger unit with a better locking ratio. The fuel tank is also enlarged as the BP engine is thirstier than the previous B6 unit.
So, why would more power polarise the Miata fanbase? It's mainly due to the fact that along with more power came increased heft. The '94 post-facelift NA Miata weighs about 100 lbs more than the pre-facelift variant. And for many, the 1.8 had noteworthy improvements in low-end grunt, but in turn, lost the responsiveness of the free-revving 1.6 engine.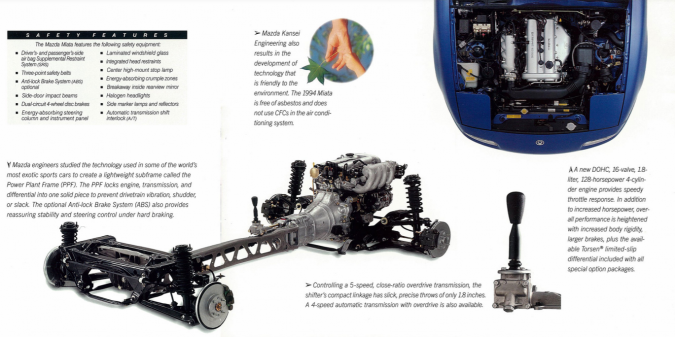 In a lightweight sportscar that the Miata was designated as the liveliness of the 1.6 is sorely lacking in the 1.8. The general consensus is that if you want the purity of a zesty, entertaining featherweight convertible, then stick with the 1.6. The 1.6 also had the benefit of a lower insurance group.
On the other side of the coin, the 1.8 models are undoubtedly faster in a straight line and in the corners. The improved chassis rigidity made for a better-refined car that rewards drivers for behaving well. However, despite having more displacement, the final gear ratio in the 1.8 NA Miatas is longer, so the higher torque might not be as pronounced as you might imagine.
Mazda Miata Limited Editions
Following the 1994 year facelift, limited edition Miatas were dubbed as the 'M' Edition instead. The 1994 'M' Edition Miatas were painted in Montego Blue. A deep cyan colour that pops with greenish hues with a light shining on it. Those Miatas were upholstered with a tan interior, special polished 14″ alloys, Nardi wood shifter and parking brake handle. Plenty of 'M' Edition badging and carpets adorned the car throughout. 3,000 of the 1994 'M' Edition Miatas were built.
In addition to the 'M' Edition, there was also an additional 'R' Package. This was the factory-tuned sports Miata to have, with Torsen LSD included, no power assistance, Bilstein shocks, aero package, and lowered sports suspension. Subsequent Miatas can all be ordered in this 'R' Package trim level.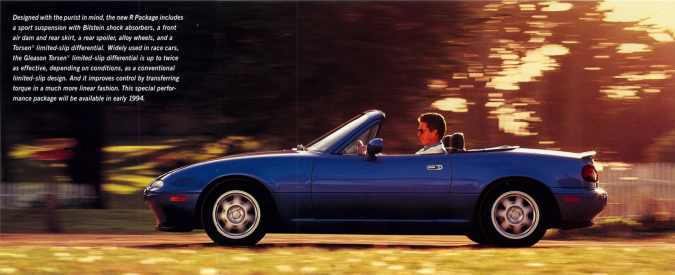 Mazda Miata 1995
Not much changed from the 1994 model with the exception of a switch to the simplified 'lo-hi' oil pressure gauge. This year's 'M' Edition celebrated the 5 year anniversary of the Miata. For this, Mazda prepared a unique Merlot Mica paint which is a deep red-purple colour that really captures light reflections well. To complement it Mazda installed 15″ BBS alloys that weigh just 9.6 lbs.
Again, inside the car, you'll find tan leather upholstery, Nardi trim, and a tan vinyl top. The 'M' Edition Miata always gets all the amenities as well as the badges to identify it. It also received new seats with adjustable headrests
Something noteworthy is that Mazda has omitted the whole 'A', 'B' and 'C' Package. They are instead replaced by Base Model ('A'), Popular Equipment Pack ('B') and Leather Package ('C'). Otherwise, the options and spec offered to customers remained identical to the past.
Mazda Miata 1996
Another big change this year saw Mazda migrating to OBD-2 on the Miata. This came along with a minor power bump up to 133 horsepower. The 1996 'M' Edition can be identified by the Starlight Blue Mica paint which can appear blue in direct sunlight, purple during a cloudy day, and black at night. In lieu of BBS, 15″ 5-spoke Enkei alloys are used instead.
Again, it's similar to previous 'M' Editions with the tan leather interior. But somehow this 'M' Edition also received keyless remote entry and an alarm system. This is somewhat counter-intuitive when you remember that most Miatas have a soft top.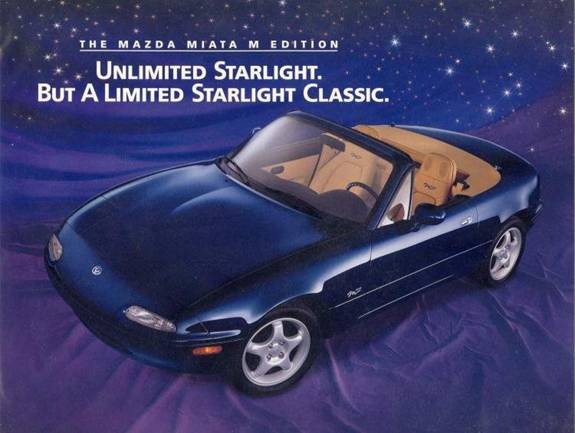 There is also an addition of a Power Steering Pack. It's literally the base model installed with power-assisted steering and wheel trim rings. From this year onwards, the rear subframe brace is no longer a standard feature. Instead, you have to buy the Popular Equipment Pack for it or any models at a higher trim level.
Mazda Miata 1997
This is the last year of the NA Miata for the North American market. Miatas after this year has had a significant redesign and are referred to as the second-generation NB Miatas.
Again, not much has changed from last year, bar the new 'M' Edition, Limited Edition as Special Touring Option (STO), and an additional Touring Package. The '97 'M' Edition Miatas can be determined by the Marina Green Mica paint. It looks like BRG in the pictures, but in person, you'll notice the gold metallic flakes. It's a more subtle green, closer to olive green in contrast to BRG.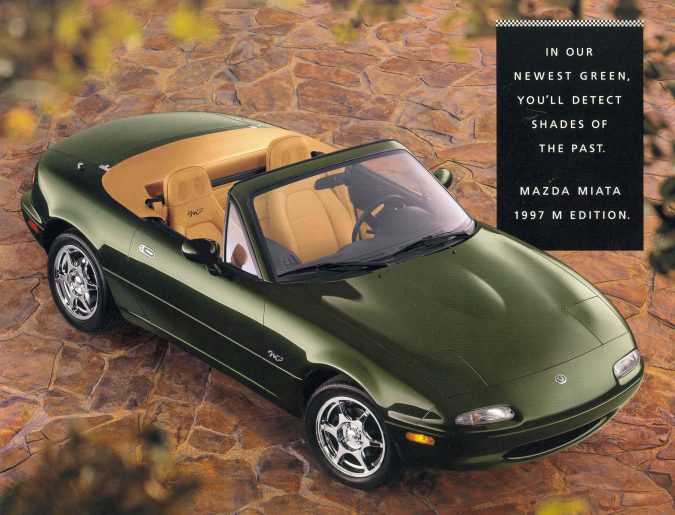 It's finished off with a set of 15″ 6-spoke cast polished aluminium alloys. At 14.5 lbs those are the heaviest wheels fitted to an NA Miata from the factory. Approximately 3,000 '97 'M' Edition was produced and sold in the US.
STO is the special one though, and it's colloquially referred to as 'still the one' by Miata fans. It's painted in Twilight Blue Mica, a paint code that's also found in the NB Miata. It includes all the bells and whistles offered in the Leather Package and 15″ 5-spokes made by Enkei. This model was only produced between May and July of 1997, and reportedly only 1,500 were manufactured, all of them numbered.
Mazda Miata 1990 and on Issues
Fortunately, Miatas were built to be robust. A common issue that plagued most classic British featherweight sportscars is the fact that they go wrong so often that most people can't put up with the effort needed to own one. The Miata on the other hand is designed and developed with parts Mazda knew worked. However, no car is bulletproof especially when it's from two decades ago.
The primary issue with all Miatas is rust. Anywhere that can accumulate moisture or is exposed to the elements on the Miata is prone to rust issues. That means all the fenders, frame rails, rockers, doors and subframes. If you live somewhere that snows, it's pretty much impossible to find a Miata without rust.
Water can also deposit over time in the spare tire well in the boot. This is also a common issue for all old cars.
Admittedly, it's an issue prevalent with all soft-top convertibles. Over time, the vinyl top will rip and tear simply due to age. Exposure to the sun accelerates this. If this is a concern for you, look for a hardtop Miata. The dashboard can also harden and crack over time without adequate maintenance and care from sunlight.
For Miatas that still have the original radio, the radio may take a long time to switch on or go on and off intermittently. It's a common issue with Miatas parked in highly humid areas and driven seldomly. There's a DIY fix that has been documented by Miata owners. Before 1996, headrest speakers are often miswired from the factory or in aftermarket installations. They can also just be broken from age.
Miata Community and Resources
The great thing about the Miata is that it has a massive community with ardent owners eager to share their own experiences. Most, if not all, issues with the NA Miata have been documented plainly by the owners. In fact, I would not hesitate to say that the Miata has one of the largest automotive fanbases out there.
If there's anything you want more details on, then Miata.net is a great place to start reading, with a FAQ section too. Most of the photos you see here are only possible due to the diligent archiving by Miata enthusiasts over there. It's an all-encompassing resource compilation regarding all generations of the Miata. There's also a forum that has been actively discussing all there is to know about the Miata for over 2 decades.
This is the specifications sheet used to help compile information for this article, and it'll prove very useful to identify what exact Miata you're looking at. And if you're intrigued by the NA Miata, here's the buying guide you should definitely read through first. There is even a Miata forum solely dedicated to forced induction Miatas.
Feature image credit from commons.wikimedia.org – This file is licensed under the Creative Commons Attribution 2.0 Generic license.
Approved Tools
These tools have been tried and tested by our team, they are ideal for fixing your car at home.