The German premium automaker launched a new rugged and more powerful 2017 Mercedes-Benz E-Class all-terrain in the UK market. As we all know, the mission is to beat its rivals: Volvo V90 Cross Country and the Audi A6 Allroad. And despite all the SUV trend, this type of vehicle still has its place under the sun. Plus, the 4Matic AWD, the refinement and the performance might conquer some SUV drivers as well.  However, a lot of time has passed since the 2016 Paris Motor show, where the new E-Class appeared. Now it's time to talk about the newest version of this All-Terrain model.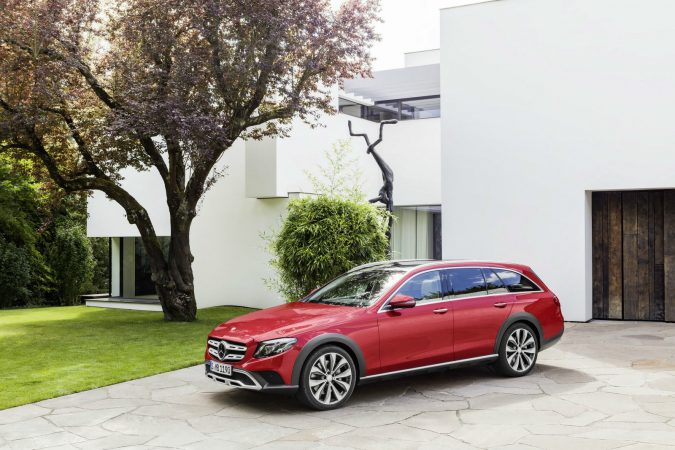 How Fast Does The New E-Class Go?
Initially, the Mercedes E-Class All-Terrain offered a 2.0-litre diesel engine that produced 191 hp and 359 Nm of torque. The 9-speed 9G-tronic automatic transmission orchestrated all that power. As a result, the All-Terrain went from 0-62 in exactly 8 seconds, reaching top speed at 144 mph.  Fuel consumption was of 55.4 mpg and CO2 emissions at 137g/km.  Although this configuration still remains, here comes the upgrade for the UK drivers.
So, as promised in 2016, the rugged E-Class comes with a 3.0-litre V6 diesel engine with 258  HP and 620 Nm of torque. That is enough power to push the E350d All-Terrain from 0 to 62 in 6.2 seconds, reaching maximum speed at 155 mph.  The fuel economy is of 41.5 mpg and the emissions stay at 179g/km. Granted, the more powerful E-Class Estate will have only this engine option. On the other hand, the  entry-level cabriolet version has a 2.0-litre petrol engine that produces 181 HP and delivers 300 Nm of torque.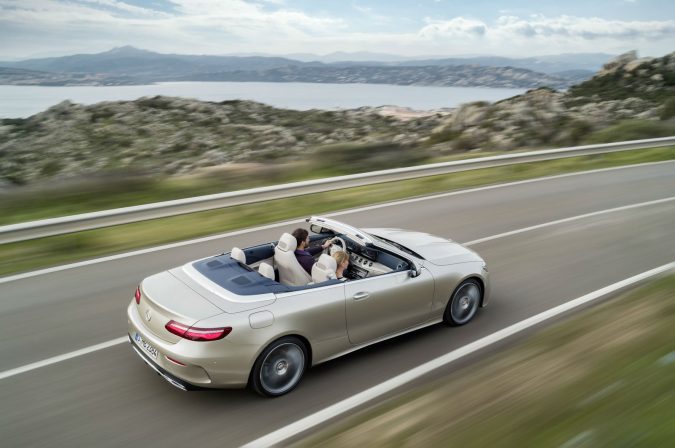 Well Equipped
For  £58,880, Mercedes will add a panoramic electric sunroof, Air Body Control air suspension, Burmester sound, and a 12.3-inch display. And the package includes, LED intelligent light system, split folding rear seats, privacy glass, electric adjustable front seats and split folding rear seats, and many more to the E350d. Plus, the towing capacity is of 4629 pounds, it folds electrically, and it has a 13-pin adapter.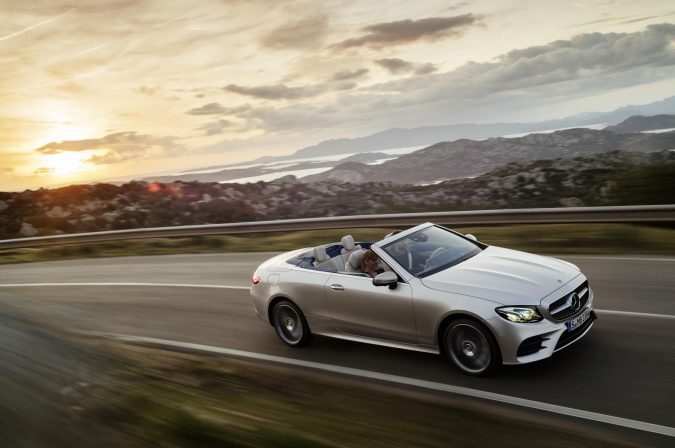 This All-Terrain estate, despite all the SUB hype, is a good alternative if you want to to combine two different worlds, urban driving and off -road. The E-Class is a versatile vehicle. The critically acclaimed 4Matic all-wheel-drive can do a pretty job. Not to mention that the rugged Mercedes E-Class comes with class-leading safety features, refined interior, and a good infotainment system. To sum up, with up to 156mm off the ground, at its highest, the Estate sits on 20-inch alloy wheels. But the price starts from £53,000 for the 2017 Mercedes-Benz E-Class and starting at £44,675 for the E220d Cabriolet.
Download your free Mercedes wallpaper here.